Hello lovelies!
I'm bummed. Because I meant to blog yesterday, I really really did. And then I couldn't get out of bed. Well I mean I could, but I didn't want to.
Then Boomer attacked me and made me get out of bed, and I just had to suck it up and deal. Then after work she and my mom wanted Mexican for dinner, and then it was bedtime. So no bloggy postin. Sorry.
So the changes I was talking about....What do you guys think?
My new blog design courtesy of this girl here!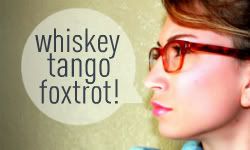 She is amazing! She and her army hubby are living over in Germany where he is stationed, and in addition to blog design she blogs about their adventures over there. I could not have been more vague when I reached out to her about a new look for the blog, but she definitely hooked me up and I love it.
You should definitely check out her
portfolio
. She has GREAT rates and from start to finish the very painless process took less than a week! (Even with the insane trans-Atlantic time difference.)
Short post today, but I'll rack my brain for something more inspired tomorrow. Perhaps somethin' beauty related. Lord knows I could open a mini Sephora/Ulta out of my bathroom. Don't judge me!