Hello Lovelies!
Today I'm linking up with my fellow C-bus blogger and friend
Holly
to tell you exactly what kinda girl I am!
Clearly the kind that wears a pleather shirt to church.....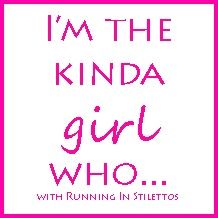 ......who is always singing. Always. I love to sing to Boomer, the cat, the congregation at church, the crowd at the karaoke bar. Music has always been a huge part of my life.
......who might also be dancing. Down the aisle of the grocery store, in the car, at my desk. I'm a dancing fool.
...who will dance in varying stages of undress if the dancing is occurring in the comfort of my own home. Yep sometimes even completely naked. Boomer shakes her head, and then joins in.
....who always has no less than 5 lip products in her bag. What can I say? My lips are a pretty defining feature on this ole face, so I have to make sure they are glossed and purty.
.....who has never met a makeup counter that she could resist. This also goes for nail polish and any and all beauty products. I could seriously open an Ulta in my bathroom.
......who likes to eat crap and not exercise.
.....who was SHOCKED when the above behavior resulted in 10-15lbs gained in the first year of her sit down all day job. YIKES!
.....who likes cats. Specifically because they DO NOT CARE. And IF they care, that means really really love you.
.....who loves her kiddo. A lot. She's fun.
.....will never really grow up.