Hello Lovelies!
So I'm linking up with
Misty
today to talk about what I'd wear and such if going to the Oscars.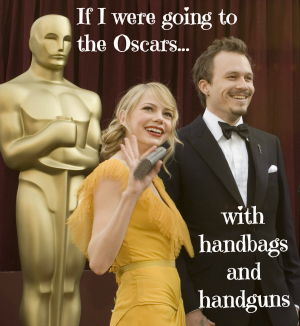 I love me some McQueen!
I'm a tall not so busty girl like these models and I just love dresses like this. The cut out on the last one slays me.
I'd pair it with some Choos, because I see them taking over the red carpets lately. Louboutin's are fab, but I think everyone forgot about how graceful and elegant Jimmy Choo shoes can be.
I'd lock everything down with a McQueen clutch, and some very simple jewelry. Maybe a knockout bracelet, or ring. These dresses really do the talking.
I'd probably wear my hair up to show off the neckline of the dress, no need to be fussy with my crazy long tresses. My makeup would be smoky eyes, with a nude lip, or a bold red lip and simple eyes. (My go to in real life too.)
As for who I'd go with. Well since I'm newly single in real life, I think I'd hit the carpet alone and see and be seen at all the parties afterwards. I'm sure I'd find plenty of handsome Hollywood hotties more than willing to play escort to next year's award season.
So what would you wear? Who would you take?