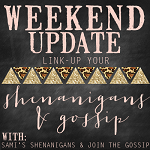 Hello Lovelies!
I'm linking up with my love
Sami
for another Weekend Update.
Friday night I did a whole lot of nothing with Boomer. Then I caught up on many many episodes of Lost Girl. I don't know why, but I'm obsessed with the paranormal.
Saturday I woke up, and something was just off. I spent literally my whole day in bed. Crazy Migraine then turned into hot and cold flashes, body aches, and then a whole lotta prayin to the porcelain god. Boomer and Jack took great care of me and each other though. Nothing like puking your guts out with a cat sniffing it, and a 6 year old asking you who she should call.
Sunday I managed to pull myself together for breakfast with Boomer, and then a whole lot of chillin' on the couch. I knew that her school's PTO was having a pool party, and I'd bought tickets and said we'd go, so I needed to get healthy enough for that.
Jack helping to heal me!
After holding my hand, he decided to give me a bath.
We made a quick stop by Mimi's house to grab some beach towels, and we were off to the Westerville Rec Center.
Let me just quickly explain to you that getting into a bathing suit in January is my version of hell.
Getting into said bathing suit, with 200 children is my worse version of hell. I love my child. I like my friends children. I like well behaved children. All other children, especially those I cannot discipline, I cannot stand. Ugh....in a pool with a million other loosely supervised children. God help me. Especially when I see said children attempting to push each other under the water out of malice, or pushing my kid out of the way. Help me Jesus.
I made it quite clear to Boomer, that unless she was going down the slide she needed to stay by me at ALL times. Momma can't be going to jail.
Boomer and I had quite a fun time the two of us. Its actually a pretty cool set up. There is a lazy river, fountains, a small kid area, and this really cool whirl pool thing. Under different circumstances I'm sure I would have enjoyed it even more.
After we dried off from our pool time Boomer and I headed to Target. A.K.A., mommy's happy place. I told Boomer it was my treat for taking her to the pool party. And ya'll. Target did me right.
I got these puppies, for less than $10!!!!!!
And because they were so cheap I picked up these too!
And then I picked up this play pretty for less that $9!!!!!!!!!!!!
If any of my fellow Columbus bloggers are looking for a GREAT deal, head up to the Polaris Target. Apparently they are remodeling and had to push up all their clearance markdowns. I mean, these prices were unreal.
We also picked up a new booster seat Boomer. I've been in denial that she is big enough for one, but Momma Boom dropped the hint when we were over there and she showed me the one she bought for Boomer. So I caved. Boomer actually has identical ones now.
Well that's my weekend peeps. What were you guys up to?