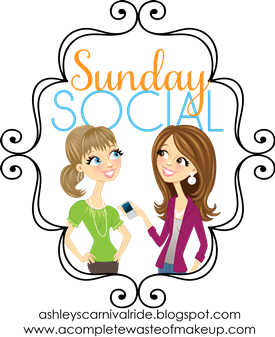 Hello lovelies!
Its time for another Sunday Social link up and this one is about one of my favorite topics of all time:
FOOD!!!
1) If you could only eat one food for the rest of your life what would it be?
Hmmm....I don't know. That's a tough one because I love a lot of different foods. I'm going to have to go with samosas, only if there is chutney sauce. Last time I ordered them I didn't get any chutney and it was super depressing.
2) What is your guilty pleasure/comfort food?
Umm...anything with chocolate in it. Graeter's Ice cream, and oddly enough buttered toast. Sometimes I could eat an entire loaf. (Gross I know.)
3) What is the weirdest/craziest thing you've ever eaten?
For me it was Sushi, just because anything raw is just gross to me. I did it for my sister, but I'll never do it again.
4) What foods do you avoid at all costs?
I avoid pork products, but that's more a religious thing than anything else. I was raised Seventh-Day Adventist, and one of the beliefs is to not eat 'unclean' foods. (similar to Kosher in some ways)
5) What meals remind you of your childhood?
Every Sunday that I stayed with my grandparents, we would have bran muffins, grits, veggie ham with red eye gravy, and postum. I loved waking up to those smells. Now we have pancake Sunday so Boomer will have great Sunday morning memories too.
6) Share one of your favorite recipes and the story behind it.
Apple Pizza
1 Pillsbury crescent roll package
1 diced apples
ground cinnamon and sugar
Basically roll out the crescent roll flat onto a baking sheet. Separate the pieces so they look like pizza sliced.
Mix the cinnamon, sugar, and apples and spread them on the dough. Dot with butter. Bake at 350 degrees for 15 mins.
This was a recipe I learned in 1st grade. Its the EASIEST, quick, yummy desert you can make anytime. I make it, and eat the whole thing. Its bad. I very grudgingly share it with Boomer sometimes. Only if she notices that I made it though.
See ya'll tomorrow!