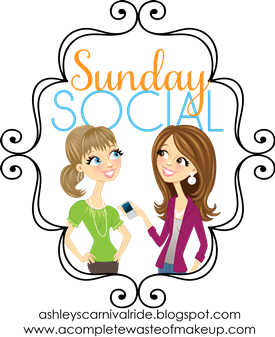 Alright everyone its time for another Sunday Social!
Favorite TV show of the past?
There are so many....The O.C. (the first season) One Tree Hill, Dr. Quinn Medicine Woman (yeah I was a dork) I really loved ER, that was one show my mom and used to watch together. She used to not allow me, but when she realized I was sneaking episodes in the basement, she finally relented and allowed me to watch with her in her room.
Favorite current TV show?
I don't really watch current TV that much. Netflix came into my life late last year....and now I watch that pretty much all the time. No commercials, so its pretty awesome. I still love my Grey's Anatomy though. My friends make fun of me for it but clearly I love me some medical melodrama.
Reality Show I'd NEVER do?
Flavor of Love, Rock of Love, or any other 'date a not so famous anymore celebrity' reality show. Anything on VH1 essentially. I love watching them, because it's like a train wreck that you can't look away from. I would never be on one though.
Reality Show you'd LOVE to do?
I'd have to say Amazing Race. I think it would be really fun to push yourself like that and see a little bit of the world.
TV Personality/Character you feel is most like you?
Ummm....I'm not sure that I've ever really identified with a TV character. I told my mom once that I did with Scarlet O'Hara and let's just say her response scared me off it.
TV character you'd want to date?
Sam from Private Practice. Just so I could see Taye Diggs smile. Its so pretty.