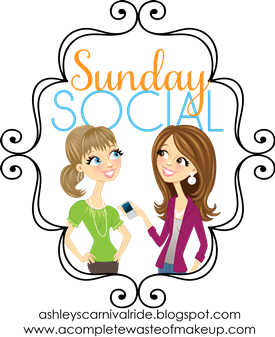 It's time for another Sunday Social!!!
I'm really enjoying these. They are fun, and its so cool to hop around to everyone else's blogs and see their answers as well.
1. What is your favorite place to shop?
Umm...I have to pick ONE?!?!?!? Nordstrom....Target....Express....Banana Republic....I can keep going all day.
2. If you could afford any and everything which designer brand would you covet?
Alexander McQueen. The style can be everything from over the top to sophisticated. I would make up things to wear those gorgeous gowns too.
3. Must have closet staples?
Hmm....skinnies (from anywhere as long as they fit), V-neck tees (because I'm in the itty-bitty-titty commitee and crew necks are NOT flattering), a go-to pair of nude and black pumps (every grown woman needs this), at least ONE pair of fierce, expensive shoes that make you feel amazing.
4. The picture above is my current shoe crush. Brian Atwood, has become something of a celebrity darling and his shoes tend to be less 'LOOK AT ME' than Louboutins. Now if someone hands me a pair of red bottoms, I will smile and say thank you.
5. The best deal I've ever gotten? Probably my Michael Kors gladiator booties. They were on sale, and I had a coupon so they cost me all of $40. I LOVE my babies.
6. Style I'd like to try? Probably hats. My mother has amazing hats. I just don't think I'm a hat person. Yet.