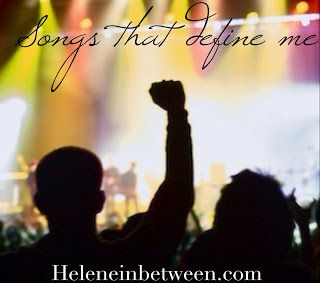 When
Helene
first posted that she was doing this link up I was psyched!
Then I sat down and thought about how this could possibly be the longest post I ever freaking write...
Then I started to think. Are these songs that I just like? Do they define a moment? Do they define me?
Then I thought, I'm probably thinking way to deep into this.
So here goes.
Bittersweet Symphony
If you were alive at a certain time, this song brings to mind our angst filled teen years. Oh, and Cruel Intentions. Still was Sarah Michelle Gellar's wardrobe from that movie.
I Love Your Smile
My dad used to sing this song to me when I was little. Anytime I hear it I break out into giggles and smiles.
Friday Night
This song reminds me of a class trip I went on in 9th grade. I was in love with this guy Trent, who was a Junior, and he sang all the words to this song and I loved him more.
Yeah
Sophomore year of college. Dancing on a bar.
Lonely Night In Georgia
Sophomore year of college. In a long distance relationship. Basically tortured myself with this song.
Break The Ice
Britney was going crazy when this was out. As a new, stay at home mom, I could kinda relate. So I danced fiercely in my living room for Baby Boomer to this song.
Come Away With Me
This always reminds me of the summer before my Junior year of high school. Reading A Prayer For Owen Meany, and listening to a burned copy of this CD my bestie made me. I think of him any time I hear this song.
Deacon Blues
This, and anything Donald Fagan or Steely Dan just makes me happy; thinking about dancing around the living room with my mom, or road tripping with her. She's the best.
So that's a few that I could think of off the top of my head this morning. I'd add more...but html is giving me a headache. Can't wait to hop around and see what else is out there :)